One of the things I enjoy most about my work is getting out and about and visiting customers and partners. It's one of the best ways I know to get accurate feedback about what's going on in the field, as well as to learn about the many challenges faced by today's enterprises. A recent trip to a long-standing AudioCodes customer in Europe was no exception.
This customer is a well-known player in the financial services sector, and their IT manager had reached out to me because she was interested in purchasing a reliable interaction recording solution to ensure compliance with a whole raft of complex and ever-changing regulations. Could I help?
Why Stop at Compliance?
But as our conversation progressed, something interesting started to happen. This IT manager realized that compliance was actually just the tip of the interaction recording iceberg, and she wondered if it would be possible to broaden the scope of our discussion to take in other possible use cases for recording solutions as well.
When I asked for more details, she mentioned that she'd like to use interaction recording for a variety of different purposes, including quality monitoring and sales improvement. This was music to my ears – we were getting into the increasingly popular topic of interaction analytics.
What Is Interaction Analytics?
Interaction analytics is a process of analyzing interactions such as voice, video, content sharing, chats, documents and emails to gather insights on business progress, performance, areas to improve, and much more. It enables stakeholders like compliance officers, process managers, product managers, marketing experts and others to acquire deep insights to help them make effective, data-driven business decisions.
Here are just a few real-word scenarios:


Analytics for Compliance – Automated analytics can be used to identify potentially problematic issues such as staff failing to provide a mandated regulatory statement at the start of each call, breaching regulations by offering individual financial advice or not describing promotions accurately and transparently.
Analytics for Quality Recording – Customer-facing organizations can take advantage of their captured calls repository to improve the service they offer in terms of overall customer experience, agent script adherence, customer effort during the call, friction drivers, quality alerting and agent performance.
Analytics for Sales Improvement – Enterprises can use call data to assess sales performance and boost sales revenue by sharpening sales strategies, minimizing customer churn, identifying sales opportunities and pinpointing key sales trends.
---
White Paper


SmartTAP 360° Live


Unlocking the Power of Analytics for Real Business Success



---
Compliance and Beyond with SmartTAP 360° Live
After talking at length about these exciting possibilities, the customer cut to the chase and asked how I could help with her organization's analytics requirements, not just compliance recording. It was time to introduce her to AudioCodes SmartTAP 360° Live.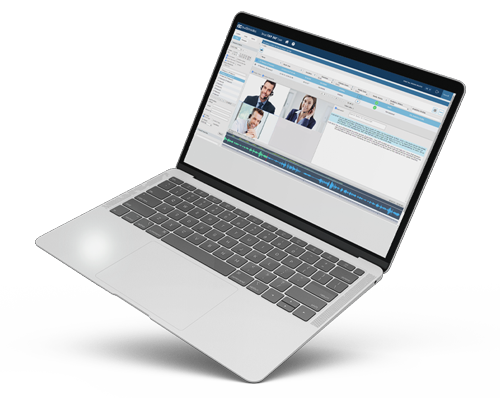 SmartTAP 360° Live is an intelligent, cloud-based, Microsoft-certified enterprise recording solution for all voice, video and instant messaging (IM) interactions. And when it comes to analytics, it doesn't miss a trick either.
SmartTAP 360° Live employs innovative Microsoft Cognitive Services speech-to-text to accurately transcribe audio in more than 100 different languages and variants. This is just a taste of what this powerful solution can do on the analytics side:


Full call transcription to quickly find important information without having to listen to the entire call.
Generated transcriptions that can be added to the enterprise's analytics system for gathering insights.
Transcription language definition on a per-user or per-group basis.
Automatic transcription activation for enabled users or groups.
So if you want to tag, classify and detect business-definable insights to maintain and expand your competitive edge, SmartTAP 360° Live could be exactly what you're looking for. And you don't need to be an analyst to see that!
Want to see SmartTAP 360° Live in action for yourself?