The video-enabled meeting experience has emerged as a key enabler of enterprise productivity and business continuity. How different organizations enable the meeting room experience may vary, but the underlying need to collaborate in real time is fundamentally human. While the video-enabled meeting experience has only recently hit a tipping point in enterprise adoption, it represents an evolutionary development in team meetings and collaboration. As a result, the industry is seeing overwhelming enterprise adoption of unified communications and great interest in the associated benefits of video-enabled collaboration capabilities.
The Video-Enabled Meeting Experience is the Voice of the New Normal
The new world of work from home, or indeed work from anywhere, offers both advantages and new challenges. The new normal is about striking the right balance between the two. The modern workplace will continue to evolve. While some embrace the flexibility of location, many depend on the traditional office environment. That means leveraging traditional unified communications infrastructure to connect the enterprise workforce across multiple sites and regions. Success hinges on a solid foundation of UC infrastructure that addresses traditional voice-only conferencing while embracing the new world of video-enabled collaboration.

RXV80 Stand-alone Video Collaboration Bar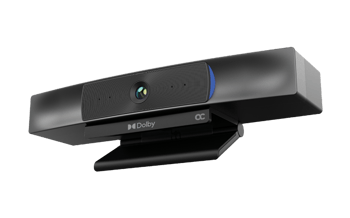 Enhanced Voice Pickup and Video Coverage Are Key for Effective Meetings and Collaboration
Enabling the meeting experience in small private rooms is easy. Open workspaces typically require many focus booths to deliver acoustic isolation. They are cost-effective for 1-on-1 meetings, conference calls and remote collaboration sessions. However, as soon as several participants join the meeting from a single room, the limitations of personal laptops become clear. Bigger rooms can only deliver an effective meeting experience when equipped with a device that supports enhanced voice pickup and wide-angle video coverage to ensure that everyone in the room can fully participate. The bigger the room, the greater the impact of video coverage and voice pickup on productivity. As more participants join a given meeting room, near and distant voices become harder to separate – especially considering overlapping speech. With fluctuating lighting conditions, following who said what becomes increasingly challenging.
Meeting Room Solutions Enable Continuous Productivity
A new generation of meeting room productivity solutions is enabling enterprises to improve efficiency dramatically. By capturing the untapped body of content generated in meetings on the fly, artificial intelligence (AI) capabilities leverage voice quality to transcribe meetings, identify speakers, capture key moments and more. This new layer of meta-data, predictive analytics, and actionable insights represents a strategic imperative to deliver on the promise of both continuous productivity and business continuity.

Meeting Insights - Turn Meetings Into Continuous Productivity


You Can't Manage What You Cannot Hear, See, or Measure
Voice quality, room pickup, and ease of operation are fundamental to enabling an effective meeting experience. Typically the result of network issues and the lack of ability to forecast operational uptime of equipment, technical problems aren't just the cause of unnecessary stress, they detract from enterprise productivity. The effective meeting experience can only deliver long-term productivity by supporting lifecycle management from a single pane of glass. A holistic meeting room solution must therefore come with the infrastructure to support both meeting participants and the IT teams who keep the enterprise running smoothly.
AudioCodes Room Experience (RX) Solutions
For over a quarter of a century, AudioCodes has provided high quality communications solutions, integrating modern infrastructure with legacy technologies to drive digital transformation in the enterprise. The AudioCodes Room Experience (RX) suite, developed together with market leaders such as Dolby and Jabra, is a portfolio of devices, applications and management tools that ensure a unique meeting experience with high video and audio quality regardless of room size or acoustic conditions. The RX suite's ease of use and integration with leading UC environments (such as Microsoft Teams) ensure that every meeting delivers maximum productivity.



Read our Solution Guide To The Video-Enabled Meeting Room Experience