The COVID-19 pandemic has led to a rush in enterprises seeking to deploy work from home solutions for their employees. They're among the fortunate businesses that can continue to operate during the lockdown. At AudioCodes we've seen massive uptake in work from home solutions in recent weeks with our enterprise customers asking us to help their home-workers stay connected with secure, high quality voice, assist with Microsoft Teams and Zoom deployments, and help Genesys contact centre agents quickly switch to home-working. Technology is fuelling the home-working revolution, that much is clear. Don't just take my word for it. Respected analyst firm Cavell Group surveyed service providers in March 2020.
Take a look at this: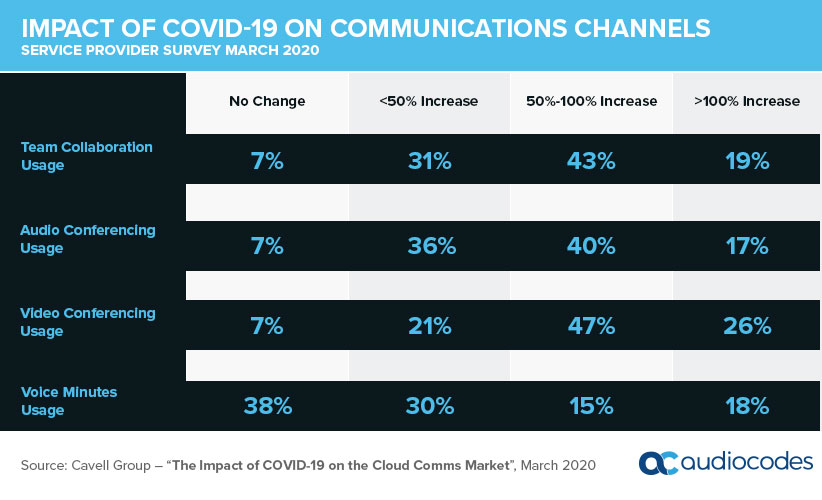 So, it's clear that the business reaction to COVID-19 is driving huge growth in team collaboration, voice and video conferencing usage. According to Cavell, service providers saw a 60% increase in requests for Microsoft Teams in March and 30% increase in requests for Zoom. Good old-fashioned voice calls are on the increase too. I recommend you take a look at Cavell's insightful recent webinar on the impact of COVID-19 on business communication trends.
But is this a short-term fix? Or is there a more fundamental shift happening in our working practices?
Here's my view. Home-working, fueled by team collaboration & unified communications technology, is here to stay. It will become the new normal for a large section of the global workforce. Knowledge workers and contact centre agents especially have risen to the challenge. Many in customer service or sales roles have embraced the trend, including a variety of administrative roles that were traditionally tied to an office.
Here's 5 reasons why.


1
---
Business Continuity is a top priority
We'll eventually emerge from the current pandemic, but businesses will come to recognise that business continuity is a long-term requirement. It has to be sustainable, a short-term fix would be short sighted in the extreme. The unfortunate reality is that this pandemic probably won't be the last health challenge we face as a society. The speed with which the COVID-19 virus spread around the world illustrates that globalisation and human mobility makes us highly vulnerable, which is an obvious risk but also presents an opportunity. COVID-19 itself may return in waves as lockdowns are eased. So, businesses have to be prepared. Other events will also mean that business continuity has to be prioritised more seriously – new epidemics, climate change driven extreme weather events, terrorist incidents etc. When businesses emerge from the current crisis, they will need to thoroughly review their business continuity strategy. Sustainable home-working solutions will continue to play a critical role for the foreseeable future.
2
---
Real Estate Cost Savings
Even for those businesses that can operate in the current crisis, cashflow and costs remain a massive challenge. When they realise that large sections of employees can work productively from home, I'm convinced that real estate / office costs will come under severe scrutiny. Is that posh office in the city centre really a justifiable expense? I'm not predicting the death of the traditional office space. Far from it, offices are still required for many functions and customer meetings and will continue to be throughout the "new normal". We humans are social animals after all. Remarkably life does go on even without congregation, but at a very high cost. The need to interact physically defines who we are. However, I do believe we will see a fundamental shift in the balance between office working and home working in the coming years, with potential real estate cost savings being one of the key factors.
3
---
Home Worker Productivity
Many businesses new to homeworking will very quickly realise that with the right collaboration technology, employees can be every bit as productive at home as they are in the office, If not more so! Home workers tend to work longer hours, benefit from the lack of commute time, and are not distracted by office chatter. Of course, other distractions do apply at home, so the pros and cons vary considerably across cultures and industries. However, in the main I can confidently state that with a focus on outcomes, self-discipline and very importantly, trust between managers and home-workers, the home office really can be a highly productive working environment.
P.S. My perspective may be slightly subjective considering I've worked at home for two years. In my own experience and as part of the AudioCodes team, our collective performance has proven this to be true :-)
4
---
Flexible & Home-Working is key to Attracting & Retaining Top Talent
Having been unceremoniously forced into working from home due to recent events, I can guarantee that having had a taste of it, many employees will be in no rush to get back to the office grind. Homeworking has some significant personal benefits. No time wasted and money spent on commuting (although home energy bills balance that out a bit) plus the ability to more easily juggle work and family commitments mean that "flexible working" and "work life balance" can become a reality for the home-worker, not just a HR soundbite. Many will not want to lose this newly found flexibility and will seek alternative employment if their current employer does not offer it long term, even for a few days per week. Consider this also from an employer perspective. By offering home-working and flexible-working options, employers can widen the recruitment net to attract top talent from anywhere, working from home yet being connected to the business and collaborating through platforms such as Microsoft Teams. In a global economy, homeworking is a fabulous recruitment tool for employers to attract and retain the best talent, irrespective of their location.
5
---
Climate Change and the Race for Zero Emissions will impact how we work
Call me radical, but I tend to believe science over politics. The data presents a compelling argument, in my opinion, that climate change is real. While opinions differ, the undeniable fact is that mounting pressure from environmental campaigns and regulatory action to address climate change will only increase in the coming years. Targets to reduce carbon emissions will increasingly drive behaviour. More businesses will deploy homeworking to reduce the CO2 emissions associated with the daily commute of their employees and the energy consumption of large office spaces. Individual employees will seek to work from home based on their own environmental consciousness and desire to make a personal contribution to reducing emissions. Personal responsibility drives change too - if a passionate and articulate young Swede is able to convince me to switch from diesel to an electric vehicle, then anything is possible! The change here can be dramatic - I was amazed by the recent images comparing pollution levels before and during the pandemic. Do we (and more importantly our grandchildren) really want to go back to the "old normal"? I think not.


---

So, there you have it. Five reasons why I believe working from home will become the new normal for many. Feel free to share your thoughts on our social feeds. But I've worked from home for the last 2 years and I can assure you that I am not going back to work in an office! I know many share this sentiment, especially considering how many more employers and employees have experienced the benefits that homeworking can offer first hand. Collaboration technology will continue to empower the world, as the AudioCodes Work-from-Home offering demonstrates.
Wishing you all good health and productivity. And of course, please stay safe, that's priority number one.