One of the most interesting aspects of my role as product manager of the AudioCodes SmartTAP 360° Organizational Interactions Recording solution is looking at how my product can integrate with other vendors' solutions and investigating what the potential applications of an integrated offering could be. And, while such projects open my eyes to new worlds of hi-tech innovation and may bear significant fruit at the end of the day, the process can be long and complex with no guarantee of success.
Very often, the complexity in these trials or proof-of-concept deployments begins right at the start, when you begin installing and setting up the system to be tested. You need to find a server (physical or virtual) with the right spec, ensure that it is running the appropriate operating system release – and that's before you've even tried to install the other vendor's software.
Sometimes, all I wish for is a simple method for setting up a system that will let me evaluate its functionality and performance to see whether it is a good fit for my product. And that's why I am particularly excited about our recent announcement that SmartTAP 360° is now available for deployment via the Microsoft Azure Marketplace.
Being listed on Azure Marketplace makes it extremely straightforward for IT managers to try out our software and learn about its powerful recording, storage and retrieval capabilities. You don't need to worry about installing the software, server specs and the like – Azure handles that for you automatically. With just a few clicks you can have a fully functional solution up and running in a matter of minutes:
1 | Search for SmartTAP 360° in Azure Marketplace and click on GET IT NOW
---

2 | Configure the basic virtual machine and network settings (in many cases you can accept the default values) and click on OK
---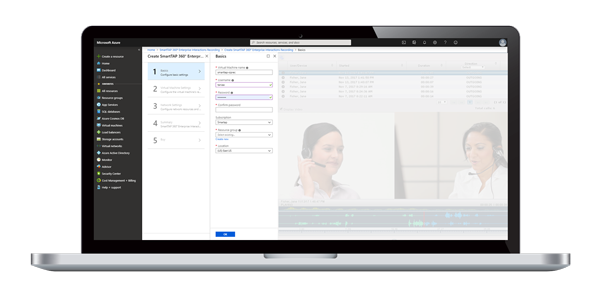 To help you get started, SmartTAP 360° in Azure comes with 4 concurrent call recording licenses free of charge, to provide you with a simple way of getting to know the recording platform and its ins and outs. And, of course, you can purchase additional licenses (via AudioCodes' channel partners) when you're ready to start using the product in a production environment. SmartTAP 360° also comes with a pre-configured demo user and a recording so that you can learn how user configuration works and test the search and retrieval features without having to set the system up with an actual PBX or UC platform.
It is very easy to start testing recordings when SmartTAP 360° is deployed alongside the AudioCodes Mediant VE SBC in Azure through a simple SIPREC configuration in the SBC that is described in the "SmartTAP SIPREC in Azure Marketplace Configuration Guide".
Once you've tried out the basic functionality with the demo setup, you can move on to test out SmartTAP 360° in real enterprise communications environments. With support for the SIPREC call recording standard, SmartTAP 360° can be easily configured to record PSTN calls in Microsoft Teams and Skype for Business environments, or, in fact, any PBX or UC environment whether deployed on-premises or in the cloud.
Call recording for compliance and regulatory requirements is rapidly becoming a critical component of many enterprise communications environments. SmartTAP 360° ticks all the boxes in terms of functionality, ease of use and of course, compliance regulation. Now that it is available from the Azure Marketplace, you can easily see for yourself why so many customers are benefiting from its ease of use and rich functionality. Why not give it a try and let us know how you get on?