In today's technologically-driven and ultra-competitive business environment, enterprises have to contend with huge amounts of data originating from many different sources.
On the plus side, this data offers deep insights into what is going on inside an enterprise, which in turn can be used to build successful strategies to improve organizational performance. However, such data was traditionally difficult to analyze without putting expensive data scientists on the payroll.
And the power of data also applies to telecommunications networks in a big way.
Data Helps You Unlock Productivity
Think about all the various pieces of the VoIP network puzzle that need to fit together seamlessly and work effortlessly in concert to deliver a reliable unified communications (UC) experience for busy employees. This starts with Microsoft Teams and encompasses network elements like session border controllers (SBCs) that work largely behind the scenes to the IP phones that workers use every day.
But sometimes, not everything in the network will function optimally. And if you want to make the right tweaks to enhance network performance, having the ability to analyze all the relevant data quickly and efficiently will pay big dividends further down the line when you can do things like:


View key data for Microsoft Teams quality and all your network devices in one place.

Receive short and simple verbal insights pointing out the most important information.

Identify your organization's video and voice network performance and usage patterns.

Analyze and compare your network performance and quality week-by-week or month-by-month.

Locate your best and worst performing equipment and devices in terms of quality.
But is there a way for busy IT managers to analyze all this information without the help of data scientists?
There is now.
Analyze Your Network Data the Easy Way
The AudioCodes One Voice Operations Center (OVOC) is an innovative solution that combines full device management and network quality monitoring capabilities for UC deployments into one exceptionally powerful yet user-friendly application.
And when it comes to the democratization of data access and its analysis, OVOC's new Self-Service Trend Analytics feature delivers in spades.
We worked with some of the most skilled and experienced analysts out there to develop an effective method for taking existing organizational data and using it to create short summaries of the most important and actionable findings. Now, as a result of this research, IT managers can use OVOC's super-intuitive Self-Service Trend Analytics dashboard to view and analyze every piece of data connected to network performance, without having to blow their hiring budget on data scientists.
In fact, OVOC's impressive new capabilities allow it to stake a strong claim to being an IT manager's secret weapon in the day-to-day work of ensuring excellent voice quality and network reliability. Take a look at the following screenshots to see what we mean.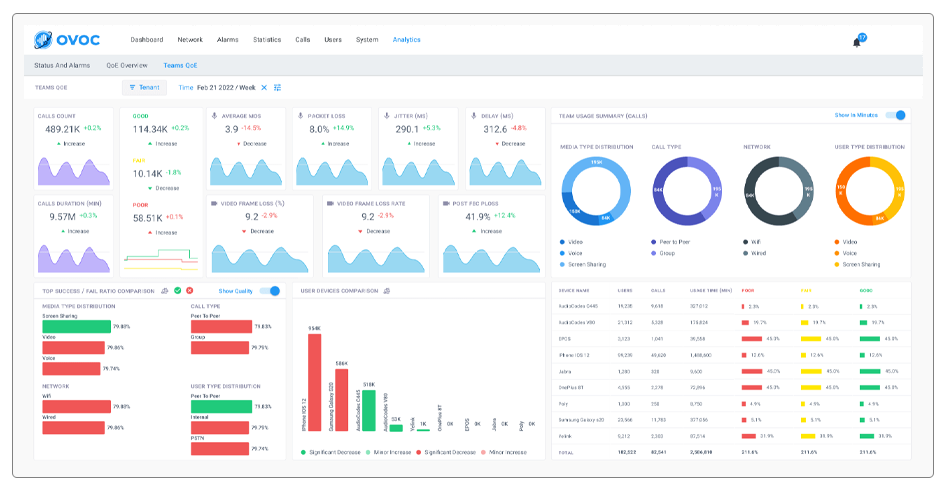 Going Beyond Network Management
So if network performance and voice quality is important to you, and it certainly should be, why not give OVOC's Self-Service Trend Analytics a go with a no-obligation demo or a free demo license? And you don't need to be a data scientist to see why that makes perfect sense!



Want to see the awesome analytics power of theOne Voice Operations Center in action?