The increasing dominance of the cloud is an indisputable fact and has quite rightly been hailed as a game changer. It promises on‑demand metered usage, scalability, global access, flexibility and resiliency, all with minimal financial outlay.
The telecoms industry is right at the cutting edge of these developments. Marque products such as session border controllers are now available in virtualized form and are therefore perfect for cloud deployment. Not only that, there is also a wide range of software-based applications, such as network management tools, that are naturally suited to the cloud as well.
As the original "One Voice" company, with a full unified solutions, products and services offering designed to simplify and accelerate voice-enablement of Skype for Business and Microsoft Teams implementations, AudioCodes has always been a leading proponent of cloud technology. So when we decided to make some of our products available on the cloud, our long-standing partnership with Microsoft meant that Azure Marketplace was the logical place to go.
For more information about AudioCodes products on Azure Marketplace, click below.


Azure Marketplace is an online market for buying and selling Software as a Service (SaaS) applications and premium datasets. It connects companies who are looking for innovative, cloud-based solutions with companies who have already developed such solutions. Azure Marketplace simplifies installing and using the software on Azure, making the experience as seamless as possible. We recently announced that our Mediant VE SBC and One Voice Operations Center (OVOC) are available on Azure Marketplace.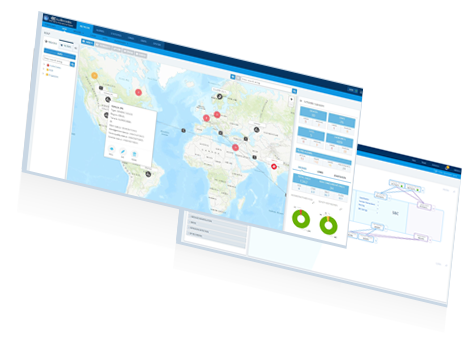 The Mediant VE is a highly scalable solution that provides extensive SIP interoperability, robust security and exceptional voice quality. It is the first Microsoft-certified SBC to be offered on Azure Marketplace and is listed with automated instantiation using the Azure Resource Manager. Designed for multi‑zone deployment, the Mediant VE is the first carrier grade high availability SBC on Azure Marketplace that works with Azure's native load balancer. Its support for Microsoft Teams Direct Routing and media bypass makes it ideal for delivering reliable and scalable voice connectivity for customers and hosted Teams providers.
The OVOC voice network management solution combines VoIP network device management, voice quality monitoring and advanced routing into one intuitive web-based application. An exceptionally user-friendly UI design allows all network elements to be managed for their whole lifecycle from one centralized location. OVOC radically simplifies complex and time-consuming tasks like root cause analysis, bulk software updates and adding new devices to the VoIP network.
The Mediant VE SBC and OVOC take full advantage of Azure's scalability, reliability and ease of deployment. And even when OVOC itself is deployed in the cloud, it can manage voice network devices whether they are deployed in the cloud or as on-premises solutions.
These two products are just a small taste of AudioCodes' advanced voice networking and media processing solutions for the digital workplace. On Azure, they help businesses of any size to set up and manage an all-IP unified communications solution.
And just in case you're not completely convinced, Azure Marketplace can be used on a "try-before-you-buy" basis before going ahead with a live deployment.
What are you waiting for?
For more information about AudioCodes products on Azure Marketplace, click here.