Most of the time that I feel inspired to post here, it's usually because of a particularly interesting visit to a partner or customer where I've seen AudioCodes products and solutions in action in the field. This thought was very much at the forefront of my mind when I visited a key AudioCodes partner in France on a recent trip to Europe.
As I sat with the partner's sales manager, Nathalie, in their head office in Paris, she told me about an issue that has come up very frequently over the past year and a half or so. Since Microsoft announced at Ignite 2017 that Microsoft Teams will be their future platform for cloud voice, many of her customers are holding back on migrating from Skype for Business or any legacy PBX to Teams. This is generally because of the perceived gradual evolution of Teams and the current unavailability of certain things that are must-haves for many businesses. These customers are essentially looking for a quick and easy answer to one question only: should I migrate to Teams?
At the heart of this migration dilemma is the fact that, although Microsoft Teams is a top-notch collaboration space for employees to share their thoughts, it lacks the voice features to be able to replace legacy unified communications PBXs or even Skype for Business. Skype for Business does have some valuable complimentary features, including common area phones support, speed dialing, Boss Admin functionality and resiliency. But for the moment, all these things are missing in Teams.

Need Additional Information About our Solution?


I explained to Nathalie that we at AudioCodes strongly believe that it's possible to get the best of both worlds by taking a straightforward two-pronged approach. For meetings and collaboration, enterprises can use Teams (or, as Microsoft calls it, Meeting First). For their voice infrastructure, they can mix and match between different Teams policies. They can define a policy to allow each user or group to work with any combination of Teams or 3PIP phones.
For example, the Teams client can be used for meetings, collaboration and chat, and AudioCodes 400HD series desk phones for voice. In this way, enterprises can satisfy their voice requirements and mitigate the current Teams gaps. A unique AudioCodes application allows the Teams client to work in full collaboration with the desk phone, using the phone as an audio device, while enjoying all the familiar legacy-like features at the same time.
And thanks to AudioCodes' User Management Pack™ 365, they don't need to have a PowerShell guru on the payroll to determine these policies. This easy-to-use software application takes care of everything in just a few clicks. Running quietly in the background, User Management Pack™ 365 automatically sends its own PowerShell commands to Office 365 based on the organization's policy definitions. It's as simple as that.
I then told her about another way to avoid having to make a migration decision right away. The AudioCodes Investment Protection Plan lets enterprises buy any AudioCodes 400HD IP phone today, and receive full credit for their original purchase if they then upgrade to any AudioCodes native Teams Phone, such as the C450HD, within two years. In addition, executives can opt for the C450HD IP phone and quickly and easily move between the Teams and Skype for Business environments at the flick of a switch.
INVESTMENT PROTECTION PLAN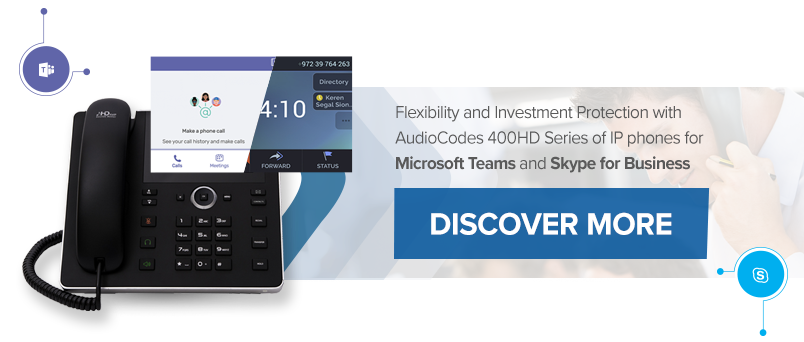 As Nathalie was able to see, this means that our partners can recommend AudioCodes' products and solutions to their customers with confidence, knowing that all bases are covered. They can ensure that customers enjoy all the benefits of Teams, without losing anything of the Skype for Business experience that has served them so well.
At the conclusion of our meeting, I left Nathalie with some additional information from Microsoft about migrating from Skype for Business to Teams:


You should check it out, too.

Need Additional Information About our Solution?