Following my previous post about PSTN to All-IP transformation market trends and our whitepaper "4 Key Points to Successful PSTN to All-IP Transformation Journey" describing some of the All-IP transformation challenges, today I wanted to explore the Smart Cloud Transformation concept a little further and suggest an efficient way for the operators to migrate their business customers to cloud services.
It is clear that the market is shifting to cloud services and we are seeing businesses worldwide seeking hosted alternatives for on-premises PBX systems, driven by the demand for cost-effective and flexible services. Small businesses have been the early adopters, but this is changing, as an increasing number of medium-sized and larger businesses contract for cloud services.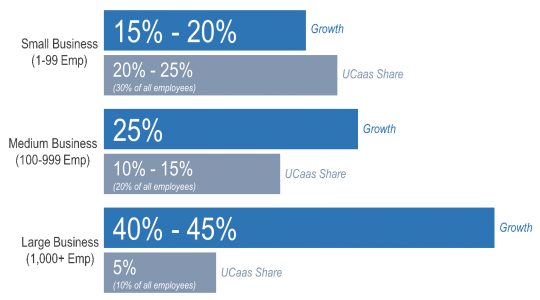 From the operator's point of view, the migration to cloud services such as hosted UC represents an opportunity for additional revenue streams, and their network transformation to All-IP is another trigger to offer such services.
What to do with all the customers who are still using on-premises PBX?
The problem is that the majority of business customers are still using on-premises PBXs, and even if during the PSTN migration process the operator replaces the business's PRI and ISDN connections with SIP trunks, there is still a need to replace on-premises equipment before migrating them to cloud services. This situation raises two challenges that operators need to face:
Business customers are used to working with their on-premises PBX systems. They have invested funds in those systems, and they are concerned about moving their voice services to the cloud and the disruption to on-going operations that might occur during this process
Moving a business customer to the cloud can be a complex task requiring the replacement of existing equipment such as desk-phones, cables etc. This task will involve sending a technician to the customer and can increase the cost of the migration to the point where it is higher than the potential revenue this customer will generate
Use a gradual cloud migration
The main concern that operator must address during the migration from TDM to IP is ensuring that it is done with minimal impact on the customer. If the operator deploys a smart CPE device as part of this migration process in order to connect the customer's TDM trunks rapidly to the SIP network, this device can serve as a "foot in the door" to be exploited later to provide additional cloud services. These new services can be offered in a gradual way whereby some applications are offered as enhancements in the first stage, increasing the stickiness of the SIP trunk. Then, the business can expand the number of extensions by adding extensions from hosted UC platforms, together with enhancement features such as collaboration, and gradually, and safely migrate all of its telephony services to the cloud.
Modular Design
Using a modular CPE design will enable remote installation of gateways, SBCs and routing applications in the same device as well as the activation of the most suitable configuration for the desired service. This, in turn, will enable operators to connect their customers to their SIP trunking services quickly and with minimum disruption, while being able to migrate these customers in the future to cloud services without a technician needing to revisit the customer and reinstall equipment.
Hybrid Solution
The use of hybrid CPEs enables operators to benefit from a coexistence solution that merges the on-premises PBX and the new hosted PBX into a single telephony solution. The hybrid design allows for a gradual migration to hosted PBX services while continuing to use the existing on-premises PBX system. Operators benefit from reduced on-site technician time and from an improved cloud migration offering to their end customers.
Operators need to take into consideration that even though the transformation of the TDM network to all-IP represents an opportunity for additional revenue streams, the migration of business customers to cloud-based revenue services may not be possible immediately. Using a smart cloud transformation approach will help the operators to do efficiently and securely.
More information regarding All-IP transformation trends and leading operators' activities in the market can be found in the "4 Key Points to Successful PSTN to All-IP Transformation Journey" whitepaper.