Whenever I talk to customers about how to choose the right business IP phones and meeting room devices, the conversation tends to follow a well-worn path.
Yes, they love the fact that all our IP phones and devices are ergonomically designed and super-intuitive to use. Yes, they're blown away by the crystal-clear sound and superb image quality. And yes, they totally get how native Teams functionality really does promote incredible productivity in the workplace.
But what they really want is a straight answer to a very simple question – which devices will best fit their unique business needs?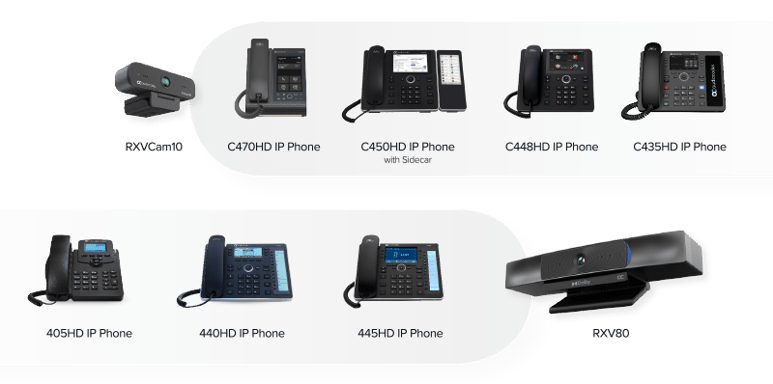 If you're asking yourself this same question, I'll tell you what I always tell these customers. Instead of getting bogged down in endless debates about technical specifications and such like, try instead to categorize your employees in terms of personas.
So, to help resolve your device dilemmas, let's have a look at some of the personas commonly found in today's enterprises and match them with the most suitable AudioCodes IP phones and devices.
Executives and Managers
---
Busy executives and managers need IP phones and devices with top-of-line specifications, including large color touch screens, attractive styling and a powerful integral speaker to take calls at a distance from the phone. The C470HD and C450HD (also with optional expansion module) fit the bill perfectly. When it comes to video capabilities, the RXV80 stand-alone Microsoft Teams Rooms on Android video device can be mounted unobtrusively above or below a TV screen for full video and audio coverage. In the very near future, it will also be able to function as a peripheral device with all unified communications platforms.
Admin

---
Admin staff need to be able to transfer many calls to people inside and outside of the organization and place calls on behalf of a boss or manager, all while using headsets to keep all the noise of the modern office at bay. The C450HD with expansion module has up to 55 programable speed dial contacts with presence indicators and pictures for connecting calls quickly, while the C450HD-BW version supports
Wi-Fi, Bluetooth and USB headsets.
Office Worker

---
Office workers are likely to spend a lot of time in calls and meetings, and require excellent sound quality and the option to use a hands free speaker, a headset or a handset – with the ability to toggle between these three options easily. Apart from the C450HD mentioned above, the C435HD is an affordable native device with a Teams button and USB headset support. Another option is the C448HD, with a high resolution 5" touch screen. The RXVCam10 should be at the top of the list for office workers who need video capability.
Work-from-Home

---
Work-from-home employees need excellent audio and video quality, and their video cameras should be portable and easy to set up. Since there are likely to be many employees in this persona category, costs should be kept as low as possible. Their devices need Wi-Fi and a power supply, USB or Bluetooth headset support and Better Together capabilities. The C450HD and C470HD tick all these boxes, while workers who frequently move between different locations can opt for the RX10 portable speakerphone. These Teams devices facilitate full collaboration with the Teams client, using the phones for audio while sharing content and video via a PC.
Common Area

---
The key requirement for common area phones is robust construction and broad functionality to encompass the needs of different verticals. These devices should be low cost, simple to use with clear user interfaces and permit easy sanitization since by definition they are used by many people. The 405HD, 445HD, C435HD and C448HD all deliver these features in spades.
Focus and Huddle Rooms

---
Designed for up to two participants, these rooms offer privacy on open spaces for calls and collaboration sessions free of disturbances. Here, a desk phone with a powerful speaker and high pickup range such as the C470HD is ideal, since it is a stand-alone solution that requires no PC or mobile device. For video calls, the RXVCam10 keeps everyone in the picture.
---


Read our new Device Selection Guide for more expert tips on choosing the right devices!