Just a decade ago, people only considered cloud PBX and IP telephony as cheaper alternatives to legacy on-premise PBX systems and PSTN. Back then, it was mostly small and medium-scale businesses that took note of these cloud-hosted alternative services since large enterprises were already employing top of the line PBX systems customized for their own companies.
Fast forward to 2017. On-premise systems are going the obsolete route while traditional telecom carriers are struggling to keep up with the demands of the ever-connected businesses of today. Nowadays, when we talk cloud communications, we are no longer talking about alternatives or substitutes; when we say cloud communications, we are now talking about the present and future of global business communications.
But what brought cloud-hosted communications to this stage? The simple answer is innovation. By going over the limits of traditional communications services – costs, hardware, scalability, and the like – cloud-based services were able to provide features that simplified business communications. That includes ground-breaking innovations that has really raised how organizations communicate to a different level such as:
Unified Communications as a Service
The biggest innovation for cloud-hosted communications providers is delivering on the promise of unified communications. From being an empty buzzword to a real concept, it further evolved into a highly implementable service. Today's cloud communications providers are able to offer different communication channels from a single platform via subscription. To give you an idea, Gartner Magic Quadrant for Unified Communications as a Service (UCaaS) top ranked provider RingCentral is able to offer audio and video conference, team messaging, and business SMS on top of the usual voice, fax, voicemail, and virtual PBX. All in one service.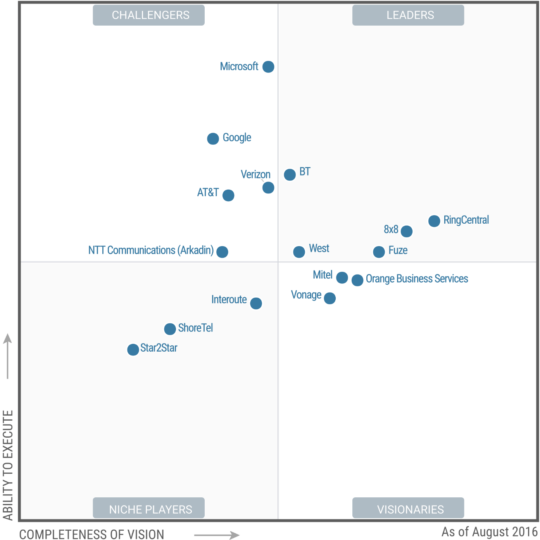 Gartner UC Magic Quardant
This removes the need for businesses to get separate providers for each service. Now, one provider is able to meet most, if not all, the communication demands of different organizations.
Open APIs
It is no longer enough for communications service providers to simply be a communications service provider. Enterprises are now looking to customize the service to fit their business needs. Not only that, business communication needs also evolve and the service should be able to have the technological flexibility to adapt every time. This is why the cloud-based approach of open APIs has been a real boon. With open APIs, the cloud communications service is able to integrate with other services bringing about new level of efficacy and efficiency.
There are two ways in which companies are able to take advantage of open APIs. The first and easiest one is through third party integrations. Popular business productivity apps like Salesforce, G-Suite (Google for Work), and Microsoft Office 365 use APIs from cloud communications providers so that their clients are able to use the service within the business productivity app. The second way is through using the APIs to integrate the communications service into the companies' own internally developed productivity apps, creating a new and unique workflow just for their company. Either way, it allows for a more efficient and more productive workforce.
Mobile apps
The true separation between traditional phone systems and modern cloud communications is the latter's ability to be accessed through mobile devices through apps. By creating a mobile app equivalent of their service, either iOS or Android-based, cloud communications providers are able to give businesses and its users a different level of mobility and flexibility that was unheard of before. This paved the way for user-friendly policies that allows users to work away from the office more often or even bring their own personal devices to work (BYOD).
Multi-location setup and administration
What makes cloud communications services a truly viable option for multi-national companies with a global reach, is its ability to be setup and administered from anywhere. Gone are the days when phone systems have to be kept and managed from a singular server room by specialized manpower. Not only that, but a single service can now be used for multiple locations around the world without the need to install new infrastructure and hardware. Some providers even let businesses establish a local presence in different countries by giving them the option to use a local number from different countries. Businesses can now access and manage the service for all their locations and users from their own device as long as they are connected to the Internet. From there, they can add and delete users, grant user and admin permissions, and generally just be on top of how their organization communicates from all parts of the world.
The best part is that cloud communications is still evolving and has not even reached the height of its capabilities. At the rate of how things are going, the cloud will definitely continue to play a big part on how businesses communicate locally or on a global scale.
About the Author
Guest post by Mark Dacanay of RingCentral
Mark Dacanay is a Digital Marketing Professional who has been working with a B2B company offering cloud-based services for more than 5 years. He is obsessed with anything about the cloud – the technology, not the fluffy stuff in the sky. You can reach him through Twitter and LinkedIn .