Being nearly 3 months into my new role at AudioCodes it's been a steep learning curve given the breadth of products and markets we address. Before I started I was curious as to why AudioCodes were making such significant investments in the IP phone range, given we were primarily known for more traditional telecom appliance products such as gateways, SBC's etc. Would it simply be the case that we have to demonstrate that we can offer bigger screens or better buttons at a more competitive price point? The answer was actually one that I was not expecting.
From a user's standpoint you could say a phone is a phone as long as it's intuitive to use and allows them to make and receive phone calls in various environments (Skype for Business, normal SIP etc). The call quality expectation is pretty much a given these days (HD voice etc). Yes there's lots of cool things they can do such as integration with the desktop (BToE - Better Together over Ethernet) but as long as they allow users to make calls then they could be considered much of a muchness and it comes down to personal preference and what people are used to. But who has given any thought to the poor old IT department that are tasked with supporting 1000's of end points that could be scattered across the globe?
With the increased offerings of cloud telephony (e.g. Microsoft's Skype for Business Cloud PBX offering) the adoption of IP phones is accelerating and with many global businesses and more and more people working from home, this presents significant challenges for those in IT. And challenges mean expenses. IP phones by their very nature can be somewhat more complex under the hood and to the average user that is asked by the IT department to confirm firmware versions, IP addresses etc., it can be daunting. So it could be argued that the true value of today's IP phones is the ability for the IT departments to have control over the entire estate so they can proactively manage a global deployment. So remotely provisioning, updating firmware versions, changing languages, time zones, signing phones in that have been accidentally signed out (think of a phone sitting on unmanned reception desk), sending messages directly to the phones that the users can see etc. Total end point control. If you analyze the potential savings the IT department can make by reducing the help desk case load this can be a far more interesting number than the price difference of one phone vs another.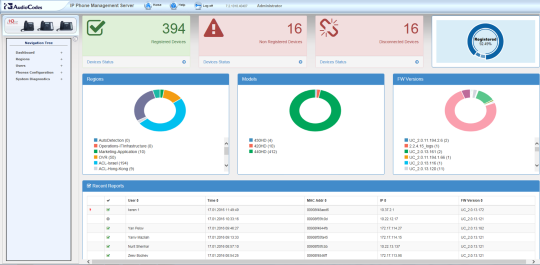 So to answer my own question, now that I've had time to explore the AudioCodes offering, yes we have a nice range of IP phones, but in my opinion there is great value in the management tools that are available to complement them.
Come as see us next week at UC Expo if you like a demo that will warm the hearts of the IT department.