You've probably heard it all over the past year or so. Headlines on the business pages boldly declaring that "the new era of hybrid work is here to stay," that it will "upend just about every preconception we ever had about the way we do business," and perhaps even lead us to "question the very nature of work itself."
But how can you be sure that the hybrid work model isn't just a transient fashion, a flash in the pan that will be vanishing over the horizon as quickly as it appeared? Let's answer that question by taking a good hard look at the numbers behind the story.
If Numbers Could Talk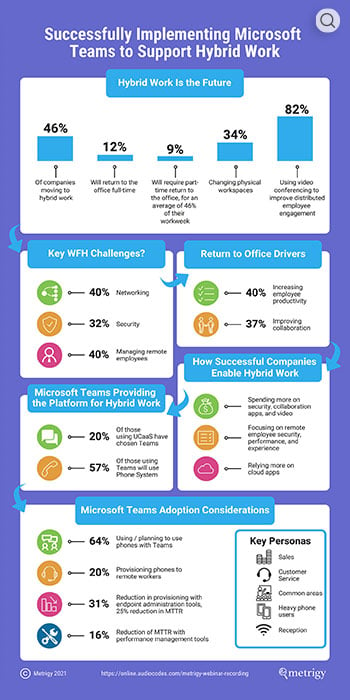 A few weeks ago, we hosted a very well received guest blog post by Irwin Lazar from Metrigy (and a webinar too). In the post, he presented his latest research that found that almost 80% of companies (out of 476 surveyed) "are planning for a hybrid future in which employees will work in the office, at home, or shift time between each location." It's also clear that unified communications solutions like Microsoft Teams will figure prominently in this new paradigm, thanks to their ability to keep employees seamlessly connected wherever they are.
Now, for those who prefer to let the numbers do all the talking, Metrigy have gathered their hybrid work data into one easy-to-read infographic.
Keeping Hybrid Workers Connected
At AudioCodes, we recognized the incredible potential of this exciting new way of working very early on – and we put our money where our mouth is. We invested significant resources into identifying all the different employee persona types common in today's enterprises, and created an innovative range of Microsoft-certified IP phones, speakerphones and video cameras that quite literally have every base covered.
We even put together a handy guide jam-packed with top tips from our experts on choosing exactly the right device for each employee. You can check it out here.
So if you like what the numbers are telling you, and you're ready to embrace the hybrid work revolution, we've got all the productivity-boosting devices for Microsoft Teams that you'll ever need, ready to go, right now. And that's a fact.
Looking for unbeatable Microsoft Teams-compatible audio and
video devices for the hybrid work era?