Last week, AudioCodes and Deutsche Telekom (DT) announced that DT has selected AudioCodes for the DeutschlandLAN SIP-Trunk project, part of DT's ongoing migration of all its German ISDN customers to an all-IP infrastructure. In our upcoming webinar 'Transforming business voice services from PSTN connectivity to managed UC services', AudioCodes together with Ovum, a leading market research firm, will provide a detailed overview of this project as well as presenting market insights from other leading operators' All-IP projects.
Register for the webinar now at:
http://online.audiocodes.com/ovum-audiocodes-webinar.
Recently, at CeBIT 2016, DT introduced the 'DeutschlandLAN SIP-Trunk', its telephone and internet line for business customers. This new service provides SMEs with a simple migration path from ISDN to IP-based connectivity. Companies already using ISDN-based DDI lines can retain their phone numbers and dial plan when migrating to this new service and it supports the flexible addition or removal of voice channels according to customers' needs.
This project is a good example of DT executing its strategy for moving to all-IP networks. So far the German incumbent has hit its all-IP milestones in Macedonia, Slovakia, Montenegro and Croatia. The company is committed to shutting down all of its European PSTN networks by the end of 2018, making it arguably the region's most ambitious telco when it comes to all-IP transformation. The diagram below illustrates the all-IP transformation journey that DT is undertaking from the old PSTN world to the new IP era.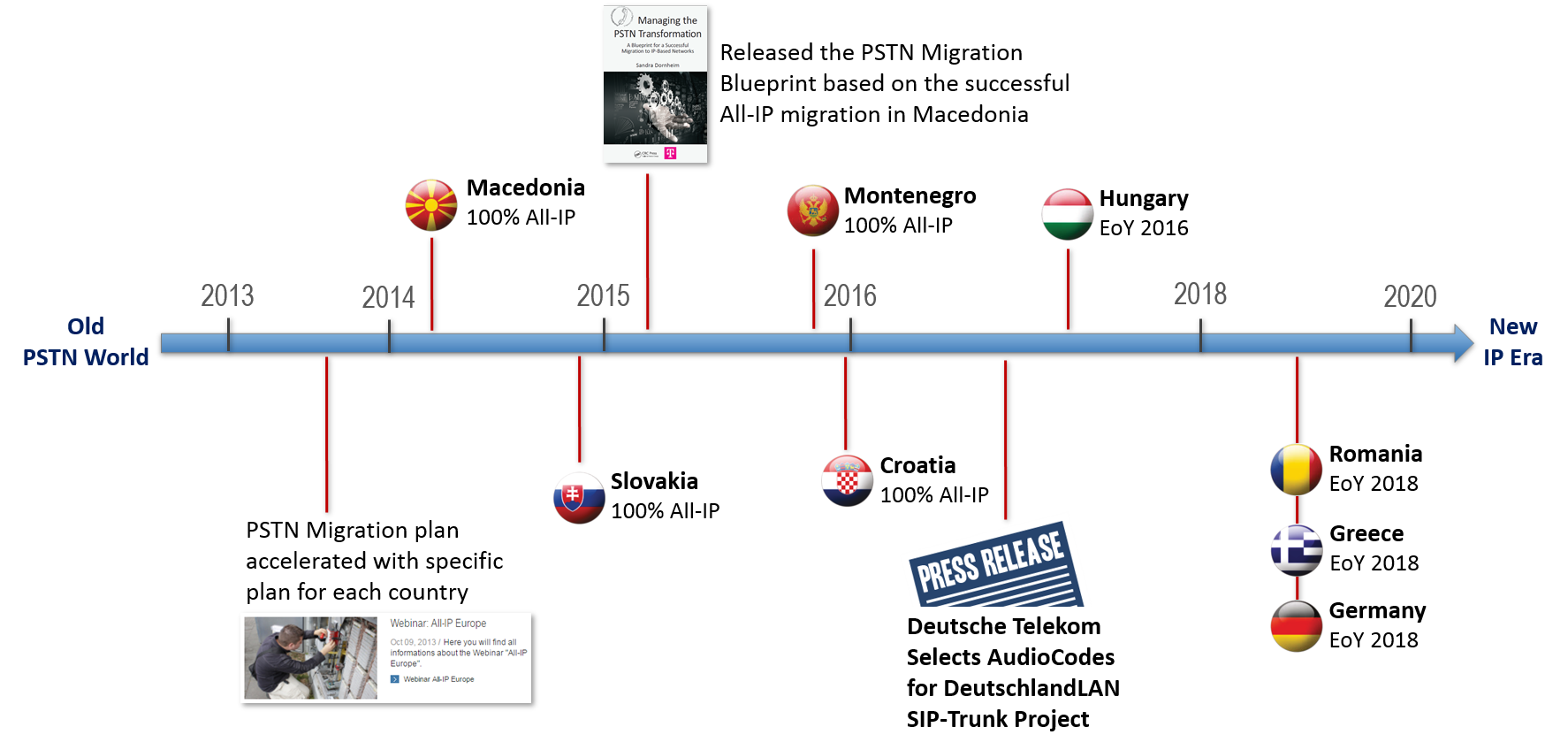 One of the main concerns that operators need to address during the PSTN migration is ensuring that it is performed with minimal impact on the customer. AudioCodes' CPEs' unique modular design allows for remote installation of gateway, session border controller (SBC) and routing applications on a single device as well as the activation of the most suitable configuration for the desired service.
This unique design enables operators to adopt a two-phased approach to their all-IP migration. First they replace their customers' ISDN connections with SIP trunks quickly and with minimum disruption. In the second phase, they can begin introducing additional services, such as hosted unified communications, simply by remotely installing the necessary software on the CPE, thus removing the need to dispatch a technician to the customer premises and reinstall equipment.
To learn more sign up for our upcoming webinar with Ovum via the link below.